Crochet Clapotis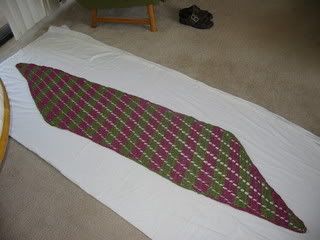 The pattern stitch: 6 dc, ch 2, 6 dc, ch 2, etc.
Increased and decreased portions (i.e. the ends) were (+) or (-) one stitch each row. You may want to do (+2) or (-2) on the very ends.
Each row: Pattern stitch but dc 1 stitch into the ch 2 space then make another ch 2. Or (if you're coming back on a row) dc until 1 stitch before the ch 2 space, ch 2, dc 1 into ch 2 space.
In other words, every row moves the hole over 1 stitch. There should still be 6 dc's between each hole. At the edges, I kept careful count as to when to start/end another hole.
XXXXXX XXXXXX XXXXXX
XXXXXXX XXXXXX XXXXX since you can't start a row with a hole, 7 dc
X XXXXXX XXXXXX XXXX can't start a row with a hole so Ch 1 space
X XXXXXX XXXXXX XXX
XX XXXXXX XXXXXX XX
XXX XXXXXX XXXXXX X
XXXX XXXXXX XXXXXX X ch 1 space at end
XXXXX XXXXXX XXXXXXX 7 dc at end
The dc into the ch 2 space was done "around" the chain and not into the chain.
I know with the knitted clapotis, the holes made by the dropped stitches were closer than what I ended up with. With my yarn (Berroco Cotton Twist) I went with the dc and whatever hook I used because I liked the drape that way. Single crochets would make the holes closer but you would probably have to alter their diagonal progression.
Length: I just worked until I ran out of yarn.
I put a sc edging around it because I had a lot of ends from the stripes and no good place to weave them in.
Also, I did stripes to try and mimic the knitted one's crossing stripes (from the variegation color changes and the dropped stitches). I couldn't get that exactly since I wasn't really working on the diagonal but it was close. A variegated yarn should accomplish the same thing, but I've also seen solid color claps that were very pretty.