The-Not-Quite-Good-Enough-Headscarf
This was the first pattern I ever tried to write down. I submitted it to Debbie Stoller's Happy Hooker book but it wasn't accepted. Hence, the name.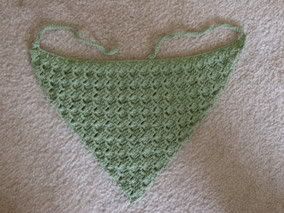 Butterfly mercerized cotton, less than 1 skein
H hook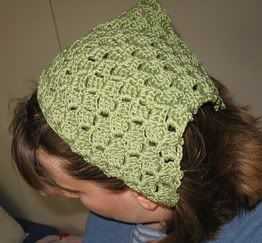 Ch 66 (this is what fit my head, I think I'm rather average in that regard but you may want to check on your own)
R1: sc across
R2: Ch 1, 2dc in first sc *skip 2 sc, sc in 3rd sc ch 4, 3 dc in same sc* repeat 19 times (until end), sc in last sc (21 shells)
R3: Ch 1, sl st to ch4 space, ch 4, 3 dc in ch4 space, *sc in ch 4 space, ch4, 3 dc in ch 4 space* repeat 18 times, sc in ch 4 space (19 shells)
R4: repeat R3, * to * 17 times (18 shells)
R5-R20: reduce the number of repeats by one each row (reduce number of shells by one each row)
R21: ch4 3 dc in ch 4 space, fasten off
For ties - chain as many as needed to reach from the corners to the back of your neck, plus a few inches for the knot. Single crochet across. Make 2. Fasten to corners.